Customer of the Month – Childline (Prestatyn base)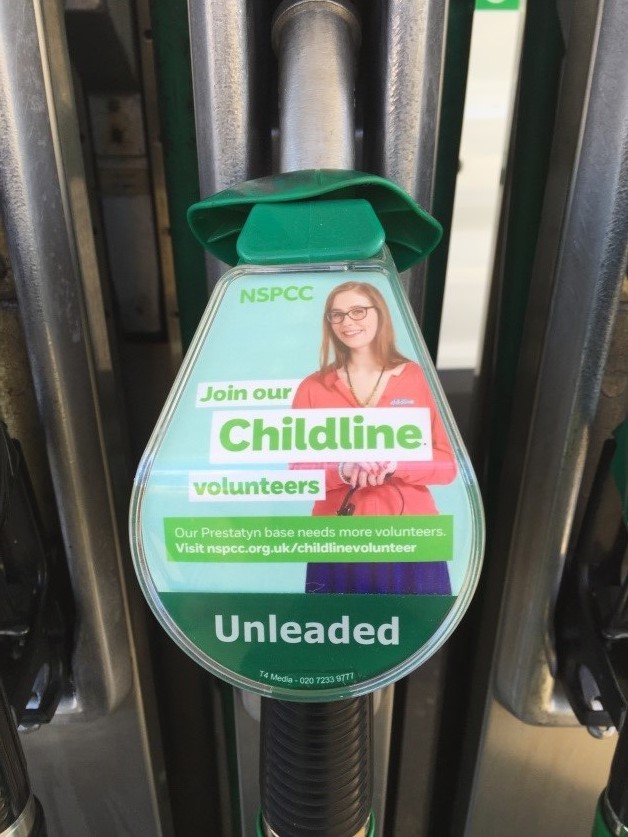 For this month's customer of the month, we speak to Sally King-Sheard, the Volunteer Coordinator for the Prestatyn base of Childline.
Now in its 32nd year, Childline has 12 bases across the UK. Prestatyn offers both voice and online counselling for young people and provides comprehensive training, briefing and ongoing support for volunteers.
What might people be most surprised to learn about Childline?
Despite alternating shift patterns between our 12 bases to ensure that there are always people on hand to speak to children and young people, we can still only answer 3 out of 4 contacts made to the helpline. Childline is in the majority public funded so we rely heavily on the generosity of the public to meet our costs to recruit and train councillors.
What do you offer that's different from other charities?
Childline has a high confidentiality threshold, which means that we can hold a higher level of risk than other agencies without involving other authorities. We aim to empower young people to find their own solutions. The NSPCC also has a schools service team where we introduce our mascot, 'Buddy' and encourage children to call us just to say hello, so that they feel more able to call if they do have a problem to talk about in the future.
What has been the most significant milestone for Childline to date?
The introduction of a provision to allow children and young people to contact Childline online in 2008, as this made our services more widely accessible for young people. The helpline saw a significant uplift in the number of contacts when this was introduced.
What do you look for when deciding how to promote your charity locally?
It can be a challenge to recruit Childline volunteers in the local area of North Wales as we are a seaside town, so I always need to think outside of the box and AdNozzles appealed because they are eye-catching, so I decided to find out more.
What's the most useful piece of advice that someone has ever given you?
Dame Esther Rantzen is a very involved Founder and President of Childline. She is inspirational and reminds us that no matter what else is happening, the children and young people are always our priority.
What are you looking for, for the future of your charity?
We are currently looking to recruit more volunteers in Prestatyn to help respond to more of the contacts we receive. Specifically, switchboard and counselling volunteers, we recruit from the age of 16. We are also looking forward to helping at the family friendly music festival in May, Rhuddfest (in Rhuddlan). Top Loader are headlining with many other excellent artists coming to play at the two day festival. Our Childline volunteers give their time at this festival to help in the running of it and to have a lot of fun.
Who and why should people contact Childline?
Childline is a helpline for children and young people to be there to listen about any issue the young person may be having. The helpline is available 24/7 both on the telephone and online through the Childline website.
If you are an adult and you have concerns for a young person or you want to make a donation you can contact the NSPCC Adult Helpline – please visit the NSPCC website for contact details.
If you live in North Wales and you would like to find out more about volunteering you can contact the Prestatyn office on 01745 772101 or our Volunteer Recruitment Team on 0121 2277577 or look at the NSPCC website.
Sally's feedback on the AdNozzle campaign she booked for Childline Prestatyn:
"This morning a potential volunteer came for an interview after completing a successful application.
At the end of the interview we always ask how the volunteer heard about us and we have had our FIRST (and hopefully not last) direct hit of recruiting a Childline volunteer for the Prestatyn base as a direct result of the petrol nozzle advert campaign.
I'm so made up and I just wanted to pass that on to you as this person may not have come to Childline without the campaign and who knows how many children's lives this volunteer will make a difference to.
I have also had lots of messages from people to say they have seen the adverts when filling up in local petrol stations.
Thank you again for all of your hard work in getting this campaign off the ground."
If you or someone you know would like to find out more about volunteering for Childline, please visit:https://www.nspcc.org.uk/